Product Profile
FULPHILATM (pegfilgrastim-jmdb) injection
Category:
Human Prescription Drug
Strength:
FULPHILATM (pegfilgrastim-jmdb) injection
Product Characteristics: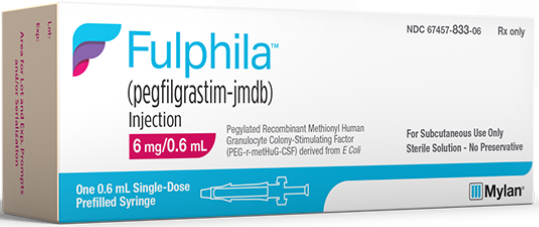 Not Actual Size
Store refrigerated between 2° to 8°C (36° to 46°F) in the carton to protect from light. Do not shake. Discard syringes stored at room temperature for more than 72 hours. Avoid freezing; if frozen, thaw in the refrigerator before administration. Discard syringe if frozen more than once.
Packaging:
Wholesale Information
6 mg/0.6 mL - Injection
Package/NDC: 1 / 67457-833-06
AmerisourceBergen
10142005
Morris and Dickson
610956